New Multi-Tenant Office Building Currently Leasing Retail & Concept Collaborative Workspace
MONCKS CORNER, SC July 22, 2020 – Home Telecom announces the virtual opening this week of their new two-story, 20,000-square-foot Home Telecom Technology and Retail Center located at 1247 Nexton Parkway in Summerville. Home Telecom's 2,800-square-foot customer service center, located on the ground floor of this new building, and featuring a 20-foot media wall, is not yet open to the public due to the COVID-19 pandemic; however, Home Telecom will staff a dozen customer relationship specialists and technicians on-site who will be available to support the Summerville service area.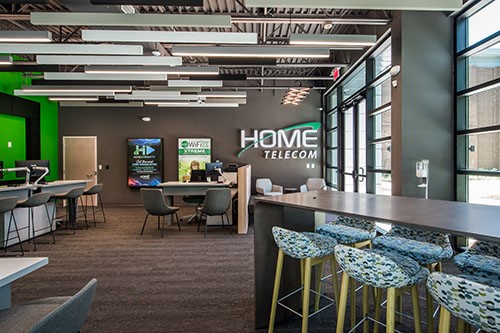 Designed by Charleston architecture and interior design studio, The Middleton Group, this impressive multi-tenant office building is meant to be a statement of intent for the Nexton development's commercial corridor, mixing traditional brick with large expanses of glass and metal panel. Located prominently at the junction of Nexton Parkway and Brighton Park Boulevard, the building portrays a combination of the long-standing tradition established by Home Telecom and the progressive design that highlights its high-tech business that Nexton seeks to showcase.
"With Nexton's rapid growth and plan for major innovation in mind, it was crucial for the design for the Home Telecom Technology and Retail Center to set the tone for the rest of the area. We incorporated a variety of materials and textures to ensure a modern, yet timeless design, that would lead the office building and its tenants far into the future," said Blake Middleton, Principal of The Middleton Group.
In addition to Home Telecom's customer service center, this building will house leasable office and retail spaces. Available now, Home Telecom has partnered with Bridge Commercial to begin leasing 5,200 square feet of office and retail space on the ground floor, which can be finished to either meet the needs of one large business or two or three individual businesses. The Concept collaborative workspace, 20,000 square feet of gigabit-capable office space on the second floor will be opening this fall.
According to Home Telecom President and CEO, William Helmly, while Home Telecom is eager to open the new retail space to the public, the increasing number of COVID-19 cases in the area, and the continued construction on the second floor, makes it unsafe to do so at this time.
"This high-tech building equipped with additional office space and Concept shared workspace fills a void for Summerville's growing entrepreneurs and business owners," Helmly said. "We're looking forward to showing off the space in the very near future."
With easy access to I-26, the new high-tech office building powered by multi-gigabit wired internet and WiFi in one of the Lowcountry's fastest developing commercial centers, helps Home Telecom better serve the growing population in the Summerville area, and to provide entrepreneurs and start up technology companies, amenity-rich office space in a like-minded environment.
An official grand opening and ribbon-cutting event for the entire building is planned for later this fall when Concept is complete. The 8,000-square-foot shared, conceptualized office space is designed for technology entrepreneurs, small startup businesses, and work-from-home professionals looking for a place to collaborate.
For more information about the round of activity currently happening at the new Home Telecom Technology and Retail Center in Summerville, contact Gina Shuler at Home Telecom, gina.shuler@hometelco.com or (843) 761-9178.
Home Telecom
Home Telecom is an integrated communications provider headquartered in Moncks Corner, SC providing telephone, high speed Internet, video, and security services to residents and businesses in the Charleston region of South Carolina. They utilize a variety of state-of-the-art technologies, most notably FTTP technology, making them a leader in providing the fastest broadband internet services in the state. Visit HomeSC.com for details about a local company with a history that spans more than 100 years.
The Middleton Group Architecture Studio
The Middleton Group, an architecture and interior design studio based in Charleston and founded by Laura and Blake Middleton in 2007, is dedicated to creating beautiful, healthy, comfortable, and energy-efficient buildings for their clients. They focus on delivering exceptional design and service, treating every project with the same level of quality and attention, and valuing their client's input throughout the design process. They use the latest technology to enhance the design process and expand the client's understanding of the design through 3D visualization, modeling, and renderings. The firm has received multiple local and state-wide design awards for their projects. Please visit www.themiddletongroup.net and follow @themiddletongroup on Instagram for more information.
Bridge Commercial
Bridge Commercial is a regionally focused commercial real estate firm headquartered in Charleston, SC. Bridge's brokers are best in class and known nationally for their experience and expertise. Bridge's mission is to best serve our clients with the combination of collaborative teamwork, experienced and dedicated talent, and the leverage of technology and innovation. For additional information regarding leasing and availability, please contact Mike Palmer at mike.palmer@bridge-commercial.com.