Hiring Berkeley County Industries Can Connect with High School Seniors and Job Seeking Residents at Free Events
This is an open invitation for two upcoming job fairs that will be coming up in Berkeley County. These particular job fairs will be unique in the fact that along with community participants and jobseekers, Berkeley County Economic Development has partnered with Berkeley County School District to bus in respective high school seniors that will be eligible for the workforce.
The information for these two job fairs are as following:

Berkeley County Economic Development Job Fair
Wednesday, October 27th 2021
10am- 2pm
New Life Christian Fellowship Church
358 Liberty Hall Rd. Goose Creek, SC 29445
Lunch will be provided for industry participants. The high schools in the northern part of the county will be in attendance in Monks Corner. The high schools in the southern part of the county will be in attendance in Goose Creek.

Berkeley County Economic Development Job Fair
Wednesday, November 10th 2021
10am-2pm
Berkeley County Administration Building
1003 Highway 52, Monks Corner, SC 29461
Space is limited – employers are encouraged to register to attend. Please send registration forms to scworkstrident@dew.sc.gov.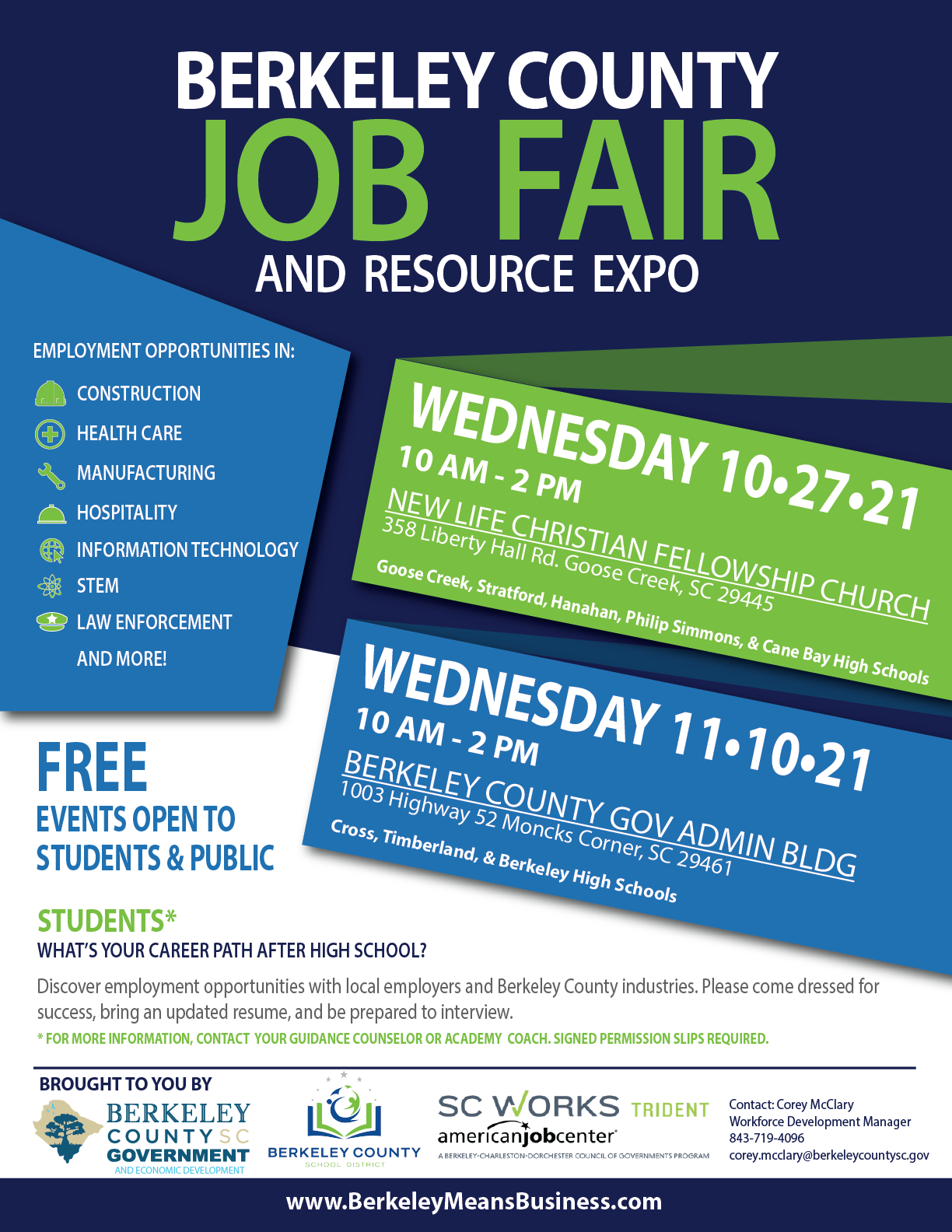 HYDERA establishing operations in Berkeley County
$15 million investment will create 15 new jobs
COLUMBIA, S.C. – HYDERA, a joint venture between Pacolet Milliken and OURAY, today announced plans to establish operations in Berkeley County at the Charleston International Manufacturing Center (CIMC). The $15 million investment will create 15 new jobs. 
Located at 1690 Bushy Park Road in Goose Creek, HYDERA is a full-service International Organization for Standardization (ISO) container depot that specializes in servicing the needs of the bulk liquids transportation industry. HYDERA will provide cleaning, storage, heating, repair, testing and maintenance of the ISO containers. 
The new facility is expected to be fully operational by April 2022, with storage and transportation services being offered as soon as October 2021. Individuals interested in joining the HYDERA team should complete the hiring form on the company's website. 
QUOTES 
"Berkeley County has proven to be a great place to invest, attract talent and grow our site. Along with our partner OURAY, we are excited to be starting up this new company, HYDERA, to serve the growing needs of the bulk liquids market in the Charleston region." -HYDERA CEO and CIMC President Kent Fonvielle

"When OURAY was looking to expand our service offerings to our chemical shipping and logistics customers along the East Coast, Berkeley County was a natural fit. Berkeley County has quick access to the South Carolina port system and national rail and highway infrastructure, as well as good proximity to an expanding customer base. We are excited for the future of this region." -HYDERA President and OURAY CEO J. Aaron Montgomery 
"Thanks to the success of our world-renowned ports, the tri-county area is full of opportunity, and companies are recognizing that at a rapid clip. HYDERA is yet another company to take advantage of the potential of Berkeley County, and we are confident they will find great success." -Gov. Henry McMaster 
"HYDERA bringing new jobs to Berkeley County is a big win for Team South Carolina and reiterates the diverse business community our state has cultivated. We thank HYDERA for their commitment and look forward to watching them grow and succeed here." -Secretary of Commerce Harry M. Lightsey III

"SC Ports congratulates HYDERA on this investment. This new facility enhances services for specialty cargo, which is important to many major port customers and employers in the region. It is encouraging to see the logistics service industry expand alongside SC Ports' continued growth." -SC Ports President and CEO Jim Newsome

"With the investment of HYDERA here in Berkeley County, we will continue to strengthen our thriving industrial community and provide our residents more quality workforce opportunities close to home. We are proud that the county remains a top prospect and competitive arena for new industry to set up operations and find long-term success." -Berkeley County Supervisor Johnny Cribb 
FIVE FAST FACTS
HYDERA is establishing operations in Berkeley County.
The $15 million investment will create 15 new jobs.
HYDERA is a joint venture between Pacolet Milliken and OURAY.
Located at 1690 Bushy Park Road in Goose Creek, S.C.
Individuals interested in joining the HYDERA team should complete the hiring form on the company's website.
Four-week training course prepares County residents for manufacturing jobs
MONCKS CORNER, S.C.- (Tuesday, July 20, 2021)- Berkeley County residents interested in growing their qualifications for manufacturing jobs can apply for scholarships for the ManuFirst SC program HERE. This free program is available for Berkeley County residents and will start on August 16, 2021. Scholarships are funded by the GEER funds designated by Governor McMaster for technical training.
When: Monday – Thursday, starting August 16, from 9 a.m.-1 p.m. or 6-10 p.m.
Where: Trident Technical College, Berkeley Campus, 1001 S. Live Oak Dr., Moncks Corner
Why: Help Berkeley County residents get the necessary training for manufacturing positions
This four-week course, ending on September 15, 2021 will provide the necessary training for graduates to qualify for positions at industries around Berkeley County and in the state of South Carolina. ManuFirstSC participants learn essential safety policies, communication best practices, quality standards, production processes and maintenance awareness. All successful graduates receive an OSHA-30 card and Yellow Belt Lean Six- Sigma certification. The course also includes preparation and testing for the MSSC Safety Certification Assessment. Materials are provided.
About ManuFirstSCTM – Berkeley County worked in partnership with Trident Technical College, South Carolina Department of Commerce, Volvo Cars, and Ready SC to pilot the program in June 2017. Since then, neighboring counties have emulated the training program to provide opportunities for residents around the state. SC Department of Commerce rebranded the program ManuFirstSCTMand has rolled it out across the state's technical college system by industry demand.
To qualify for a Berkeley County ManuFirst SC scholarship, participants must:
Be at least 18 years old
Be able to legally work in the United States
Provide documentation of Berkeley County residency
Have a high school diploma or GED
Provide proof of Bronze WIN/WorkKeys score
Scholarships are available for upcoming ManuFirst SC courses. Scholarships are awarded on a first-come, first-served basis. Apply now! Anyone with questions should contact Berkeley County Economic Development Workforce Development Manager Corey McClary at 843-719-4096 or corey.mcclary@berkeleycountysc.gov.
The South Carolina Manufacturing Extension Partnership (SCMEP) is introducing a 4-Part Cohort of workshops that seek to solve regional workforce challenges. Multiple opportunities will be available for participating companies, industries, and community businesses. All classes will take place at SCRA 315 Sigma Drive in Summerville, SC 29486
The cohort workshops will cover topics that include the following:
1. Make Your Workforce Your Competitive Advantage – October 6, 9 am to 1:30 pm
This interactive workshop focuses on building an irresistible place to work through a cohesive and holistic process of attracting, training, developing, and engaging your employees. Learn to apply the six-step Structured On the Job Training model, build a job skills or knowledge model and effectively deliver successful training using a Training Delivery Plan.
2. Maximize Your Workforce's Development – October 20, 9 am to 1:30 pm
This workshop focuses on effectively attracting and on-boarding new talent, while expanding your
available labor pools. You will also learn to maximize development of incumbent employees by creating
clear paths of development while delivering training that is highly effective.
3. Manage Your Workforce to Maximize Employee Contribution – November 17, 9 am to 1:30 pm
This session links employee development paths to company career ladders. Develop a compensation
based on promoting from within , paying for acquiring new skills and knowledge while demonstrating
strong performance.
4. Build A Culture of Workplace Leadership – December 1, 9 am to 1:30 pm
This final workshop helps you build leadership skills in existing leaders while developing a workplace
environment where everyone has a proactive role in improving the company. Learn to set goals and
expectations effectively, and leverage continuous feedback to reinforce positive behaviors and conduct
effective performance reviews.
Through recent meetings with SCMEP, Berkeley County Economic Development aims to support this initiative.
Cost: $3,000 per company for up to 3 people per company. There is a SCDOC discount of 50% for companies over 20 EE and 90% discount for companies with 20 EE or less.
A site visit will be provided by SCMEP to help facilitate the learning outcomes for each participating company.
Contact your SCMEP Regional Vice President to Register Click Here
Brian Kuney, Regional VP for Berkeley, Charleston, Clarendon, Dorchester, Georgetown, Horry, Marion, Sumter, Williamsburg Counties
864.551.0533
Send an Email
ABOUT SCMEP: The South Carolina Manufacturing Extension Partnership (SCMEP) is a private, non-profit group that serves as a proven resource to South Carolina businesses, providing them with a range of innovative strategies and solutions. An affiliate of the National Institute of Stands and Technology (NIST), SCEMP operates under the U.S. Department of Commerce to promote innovation and industrial competitiveness.
DuPont expands production of its MOLYKOTE® Specialty Lubricants at manufacturing facilities in Berkeley County, South Carolina with $59M investment and 20 new jobs.
To address the growing market for autonomous and electric vehicles, as well as to meet regulatory requirements and sustainability needs for automotive and industrial applications, DuPont has invested more than $40 million in MOLYKOTE® manufacturing facilities to ensure continuing global capacity and a cost-effective supply chain for the production of high-quality, high-performance lubrication products. Coupled with extensive tribology and material science expertise, these investments reinforce DuPont's capability for market growth in automotive, electronics, food and beverage, healthcare, heavy industry, and renewable energy and position the company for geographic expansion.
The new production sites, which feature state-of-the-art control systems for improved capacity and reliability, also benefit from transfers of equipment and experienced personnel from former MOLYKOTE® manufacturing sites.
DuPont's Cooper River site – located in Berkeley County, South Carolina – is home to DuPont™ Hytrel® Thermoplastic Elastomers operations and has been expanded to include manufacturing of MOLYKOTE® Specialty Lubricants.
"Expansion of the site has created tremendous economic growth and opportunities for DuPont and the Tri-County region," said Bill Alexander, Cooper River site leader and unit leader for DuPont's MOLYKOTE®, Hytrel™ and Liveo™ brands. "We are excited to be in an exceptional position to better service our customers and provide solutions to their lubrication challenges."
In addition to its new investments in its facilities, DuPont has supported the Cooper River community with both ongoing volunteer efforts and a donation of property for a much-needed parking area for the Cypress Gardens boat landing and botanical preserve.
About MOLYKOTE® Specialty Lubricants
For more than 70 years, customers around the world have trusted the MOLYKOTE® brand for performance and expertise to solve or prevent virtually any lubrication problem and to save energy. Available through a global network of channel partners, MOLYKOTE® brand lubricants – which include anti-friction coatings, compounds, dispersions, greases, oils and fluids, and pastes – serve the automotive market and industrial/maintenance, repair and overhaul (MRO) markets. For more information about the MOLYKOTE® brand, visit molykote.com. Follow MOLYKOTE® on Twitter: twitter.com/molykote Follow MOLYKOTE® on LinkedIn: linkedin.com/showcase/molykotelubricants
About DuPont Electronics & Industrial
DuPont Electronics & Industrial is a global supplier of new technologies and performance materials serving the semiconductor, circuit board, display, digital and flexographic printing, healthcare, aerospace, industrial, and transportation industries. From advanced technology centers worldwide, teams of talented research scientists and application experts work closely with customers, providing solutions, products and technical service to enable next-generation technologies.
About DuPont
DuPont (NYSE: DD) is a global innovation leader with technology-based materials and solutions that help transform industries and everyday life. Our employees apply diverse science and expertise to help customers advance their best ideas and deliver essential innovations in key markets including electronics, transportation, construction, water, healthcare and worker safety. More information about the company, its businesses and solutions can be found at http://www.dupont.com. Investors can access information included on the Investor Relations section of the website at investors.dupont.com.
# # #
DuPont™, the DuPont Oval Logo, and all trademarks and service marks denoted with ™, SM or ® are owned by affiliates of DuPont de Nemours, Inc. unless otherwise noted.

S.C. Department of Commerce Business Services Division will provide free monthly webinars that focus on workforce and retention options to help support your S.C. business. Speakers from across the state will provide information on available staffing programs, workforce resources, state labor laws and regulations, and other timely information that can assist your business' continued success in the Palmetto State.
Join us on Wednesday, July 21, 2021 from 11:00 AM until 12:00 PM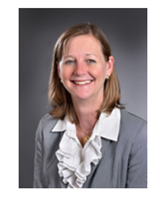 Elisabeth Kovacs, Deputy Director of Workforce Development, S.C. Department of Commerce
will discuss topics that address workforce recruitment, retention services, talent management, and more!
BCDCOG, Charleston Metro Chamber, CRDA and more partner to lead
comprehensive economic recovery and resiliency plan focused on real change.
The most comprehensive partnership of business, government, academic, nonprofit and community leaders in our region's history today announced the launch of One Region Roadmap: Opportunities for All. The Roadmap
is an economic recovery and resiliency plan that will define a healthy greater Charleston while offering real solutions, implementable actions and measurable results.

The effort is supported by a broad array of stakeholders from across Berkeley, Charleston, and
Dorchester counties, and will be guided by public input. The plan — built on action and
outcomes — will also outline a pathway to economic security, stability and opportunities for
all in our region.
Your Voice Matters
Please fill out the survey below to help us understand what challenges you are facing and opportunities the tri-county region should pursue. All survey responses are voluntary and anonymous. We greatly appreciate your time and input.

"This is an exciting opportunity for all of us to work together to address deeply rooted and
systemic problems, while developing both short-term and long-term regional priorities," said
Dr. Kendra Stewart, One Region Chair and Director of the Joseph P. Riley, Jr. Center for Livable
Communities at the College of Charleston. "Public input is critical in creating the most
comprehensive plan our region has ever seen. Each of us is responsible for moving our
community forward," she added.

One Region Roadmap: Opportunities for All is the next evolution of the One Region
Strategy launched in 2016. It begins a new strategic planning and public input process,
providing a broad platform for the community to address economic challenges old and new
— and to prepare for adversities yet to come. The plan should be completed by February 2022.
"One Region Roadmap builds upon the previous five-year global competitiveness strategy
and its core values, and will serve as a blueprint for continuing the economic momentum our
region has built over the last 10 years, while eliminating disparities and creating opportunities
for all residents to thrive," said David Ginn, CRDA President & CEO.

The effort is led by One Region stakeholders including BCDCOG, Charleston Metro Chamber,
Charleston Regional Development Alliance, and the public, private, academic, and nonprofit
sectors of our community.

-more-
SB Friedman Development Advisors has been retained to lead the development of the
Roadmap. The firm, which has previous and ongoing experience in the region, is renowned
nationally for its analytical, strategic and financial consulting services in support of complex,
high-impact development projects.

One Region Roadmap is possible thanks to a $400,000 U.S. Economic Development
Administration grant secured by BCDCOG, with additional support from partner agencies.
"This partnership is built on the shared desire of the public and private sectors to make our
region stronger and more resilient when facing major disruptions such as the global
pandemic, and addressing long-standing challenges such as those related to inequality," said
BCDCOG Executive Director Ron Mitchum.

One Region Roadmap will identify barriers to expanding our regional economy and
providing residents with opportunities for economic mobility.

The ultimate success of One Region Roadmap lies in its ability to create real change.
"This plan will provide an intentional focus on equity and economic mobility, creating
implementable action items to ensure our region offers all residents the opportunity to live,
learn and earn," said Charleston Metro Chamber President and CEO Bryan Derreberry.
The One Region Roadmap effort kicked off today with a community-based, 500-invitee,
virtual focus group. Multiple engagement opportunities will be available for the entire
community through the end of 2021, including a survey this summer and public meeting in
the fall.

For more information, please visit OneRegionRoadmap.com.
Berkeley County joined state and local leaders on June 23 to celebrate the grand opening of the Volvo Car University Campus and Technical Center located in Ridgeville.
The campus consists of buildings that, together, make close to 89,000 square feet available for training and office space. With the addition of these buildings, the company will better educate retailer technicians on current vehicle technologies.
This grand opening will bring more opportunities to Berkeley County citizens and the state of South Carolina.
Read more about Volvo Car University here.
COLUMBIA, S.C. – XIFIN, a national leader in revenue cycle management (RCM) for diagnostic providers, today announced plans to establish operations in Berkeley County. The company's new East Coast location will create more than 150 new jobs over the next two years.
With over 20 years of experience helping diagnostic providers manage business and optimize revenue cycle through the company's cloud-based RCM and laboratory information systems, XIFIN offers clients access to the information and tools needed to optimize financial visibility and operations, including understanding business trends, ensuring maximum reimbursement and improving cash flow.
Read full article by S.C. Department of Commerce here.
Charleston, SC –The Charleston Metro Chamber's Center for Business Research conducted a compensation and benefits survey in spring of 2021, in collaboration with the Berkeley and Greater Summerville / Dorchester Chambers of Commerce. The survey was open to all types of business establishments — all sizes and all business sectors.

Nearly 100 companies, representing approximately 40,000 employees in the region, participated in the biennial online survey.

Key findings from the study include:Pay increases appear to have returned to 3% to 3.5% for all types of employees within all sectorsAbout 60% of employers reported having a work-from-home/telecommuniting policy in placeLack of or too few applicants is reported as a top concern for both manufacturers (88%) and non-manufacturing (47%) employers"The survey was designed by the Center for Business Research with input from local experts in the human resources field in order to develop the most effective questions to be included in the survey," said Jacki Renegar, Director of The Center for Business Research. "We hope that the results of this survey will better inform regional organizations' compensation and benefits practices."

The 2021 Charleston Metro Area Compensation and Benefits Practices report encompasses the survey results and the benefits and compensation practices among employers in the three-county Charleston Metro Area (Berkeley, Charleston and Dorchester Counties).

This study's objective is to provide information on compensation practices of firms operating in the three-county region to:Help existing firms evaluate their own organization's compensation practices more effectively, particularly with the pandemic's effect on work environmentsAssist companies in creating a benchmark analysis to use for strategic planning purposes, andProvide trends and general information on typical local employer practices to prospective companies and site selection consultants looking at the Charleston region as a potential business location.To view the 2021 Compensation and Benefits study, visit www.charlestonchamber.org/compbenefits.

Contact:
Erin Aylor, SVP of Marketing
843.805.3053
eaylor@charlestonchamber.org
About the Center for Business Research

The Center for Business Research, founded in 1990 by the Charleston Metro Chamber of Commerce, compiles, analyzes and distributes economic and demographic information on the Charleston region. Conducting both primary and secondary research, the Center is a resource for unbiased business, demographic and economic statistics, and its work has been recognized nationally through numerous awards and presentations. The Center has been conducting wage and benefits related surveys since 1997. Though study participants differ each time the survey is conducted, significant shifts in reported policies and practices over time can be indicative of real-time trends in local employer practices. For more information, contact the Center for Business Research at 843-577-2510, or visit the resource center of the Metro Chamber's website https://www.charlestonchamber.org/news/resource/. About the Charleston Metro Chamber

With approximately 1,600 member organizations representing 160,000 professionals, the Charleston Metro Chamber of Commerce serves as the collective voice of the business community, and a catalyst for regional economic advancement and member success through Talent, Advocacy, Leadership and Business Development. Visit charlestonchamber.org.