MONCKS CORNER, S.C. – (Thursday, September 15, 2022) – At its meeting on Monday, September 12, 2022, Berkeley County Council approved a $500,000 EPA Brownfields Assessment grant to help fund a large-scale revitalization initiative to greatly improve quality of life opportunities in the St. Stephen/Russellville area. Watch the full Council meeting HERE.
This grant, part of the U.S. Environmental Protection Agency's Brownfields Community Wide Assessment Grant Program, will help fund environmental assessments on properties located within a certain designated Census Tract in the St. Stephen area. With the help of community and residential input, the Town of St. Stephen—together with the EPA and Berkeley County Economic Development—will conduct up to 15 site inventories of brownfield sites, in the St. Stephen area, that could be redeveloped to provide more job opportunities and other quality of life resources for the community.
The grant has already identified two such sites: the former St. Stephen High School, which closed in 1996, and the area's former Lumber Mill, which operated as a steam-powered lumber mill from the 1930s to mid-1960s and closed around 1970. Another goal of this large-scale initiative will be to develop a complete revitalization plan unique to St. Stephen.
Public meetings and community engagement will be critical throughout this process. More information on public meetings will be forthcoming.
"County Council is committed to improving access to resources and employment opportunities for people throughout Berkeley County. This grant will not only help fund these initiatives, but also ensure the St. Stephen community is involved in the process. Berkeley County's success is directly related to the success of its citizens; inviting the public to the table on critical decision-making efforts like this one are what makes us #OneBerkeley."  -Johnny Cribb, Berkeley County Supervisor
"The town of St. Stephen is grateful that the EPA selected us to receive one of the 2022 Brownfields Program Grants for $500,000. We were the only municipality in Berkeley County to receive this. In countless other communities around the United States, the EPA's Brownfield Program has had a proven track record of leveraging private sector investment, creating jobs, and protecting the environment. St. Stephen will use this Brownfields Grant to spur our town with redevelopment and cleanup projects and bring sustained economic growth. We are thankful for the support of the Berkeley County Economic Development Office and their ability to work with myself, Town Council, and the Town's administration to write the grant proposal. We are ready to collaborate with the various committees that will be comprised of St. Stephen residents and business owners to help us continue to grow and revitalize our town. It has been well worth the wait. This is the first of many blessings in store for our great town." -John Rivers, St. Stephen Mayor
###
-Prepared by the Berkeley County Public Information Office-
COLUMBIA, S.C. – Nucor Corporation (Nucor), one of the largest manufacturers of steel and steel products in North America, today announced plans to expand operations in Berkeley County. The company is investing $200 million over the next five years.
With roots dating back to 1905, Nucor manufactures a variety of products including carbon and alloy steel; hollow structural tubing; electrical conduit; precision castings; and more. The company's products serve the agriculture, automotive and energy industries along with various others.
Located at 1455 Old Hagan Ave. in Huger, Nucor's expansion will include the construction of an air separation unit (ASU) for the purpose of supplying industrial gases to the mill's steelmaking operations. When complete, the ASU will be operated by UIG, LLC, a Nucor wholly owned subsidiary that specializes in industrial gas supply and services. This project will allow Nucor – through UIG, LLC – to produce and supply all the gases needed for the steel mill from the new Nucor-owned facility, both now and into the future.
The expansion is expected to be completed by the end of 2024. Individuals interested in joining the Nucor team, including UIG, LLC, should visit the company's careers page.
The Coordinating Council for Economic Development has approved a $100,000 Set-Aside grant to Berkeley County to assist with costs related to this project.
"Nucor acquired UIG, LLC in 2019 so that we would have the capability to design, build and operate our own air separation units, giving us an alternative to long-term service contracts with outside providers. We are proud of our company's long-time partnership with the state of South Carolina, and we are excited to continue to invest in the state where Nucor first began operating nearly 60 years ago."
-Nucor Steel Berkeley Vice President and General Manager Mike Lee
"Once again, we're excited to watch Nucor grow its footprint within our state. This sends a signal to other businesses that South Carolina is a great place to locate and find long-term success. We congratulate Nucor on their expansion in Berkeley County."
–Gov. Henry McMaster
"Throughout its long history, Nucor has been a leading innovator within the steel industry. This latest expansion is further proof of the company's ability to embrace new technologies to grow its operations and achieve greater efficiencies. Congratulations to Nucor, and we look forward to our continued partnership for many years to come."
-Secretary of Commerce Harry M. Lightsey III
"Nucor Steel has been a critical part of Berkeley County's successful industrial sector for over 26 years, having invested $1.3 billion since 1996. We are proud to announce this investment and see this thriving manufacturer expand operations here at home. Their commitment to our great county is proof of our solid working relationship and their desire to continue building upon our strong local economy."
-Berkeley County Supervisor Johnny Cribb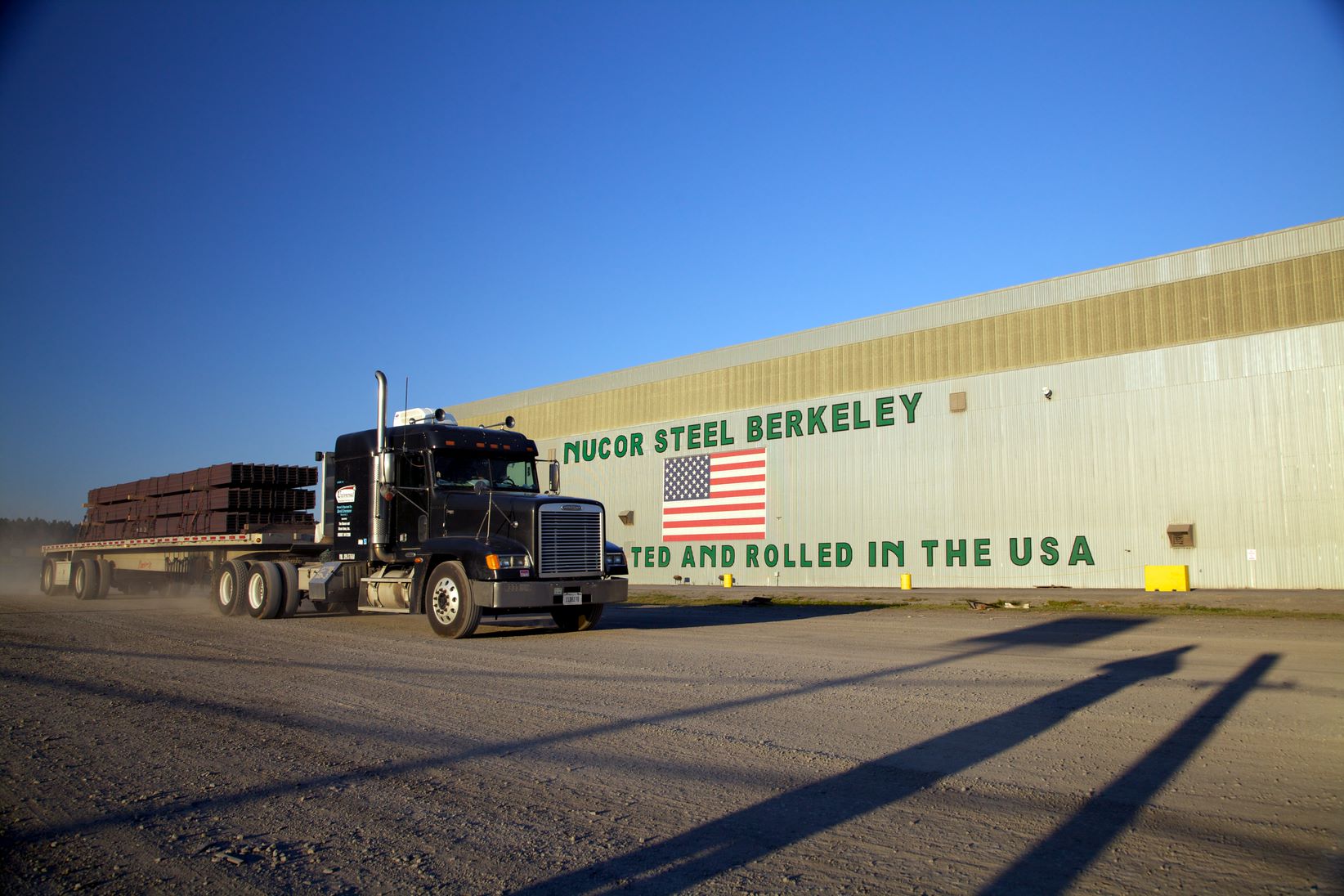 On Wednesday, August 3, 2022, Berkeley County and State leaders gathered to celebrate a special groundbreaking ceremony for RL Cold, a company that will bring much-needed cold storage and warehousing to the region to address critical needs in the domestic food supply chain.
This $90-million capital investment for the County will create 100-plus jobs, help provide a good tax revenue for the County, and help us increase our services for our citizens.
Thank you to the State, South Carolina Ports Authority and Santee Cooper for supporting this project, located in Camp Hall – Campus 5 in Ridgeville. Camp Hall was designed for growth in mind, putting the infrastructure and entitlements in place to attract world class businesses.
Thank you to County Councilman Phillip Obie II for speaking on behalf of the County and County Council. Obie currently serves as Berkeley County's Ambassador to the Port.
We are grateful for your investment in Berkeley County, RL Cold & Maersk!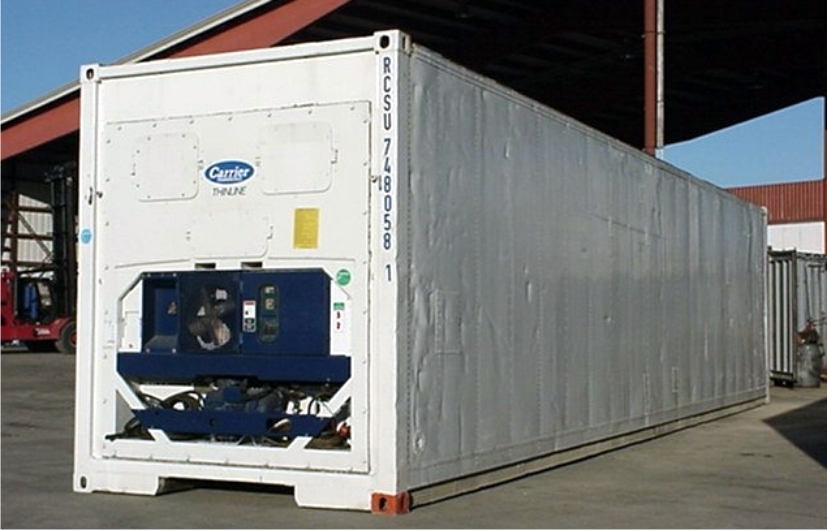 Berkeley County is proud to be home to seven businesses recently named the Best Places to Work for 2022. During a special ceremony in Columbia last week, SC Biz News and the Best Companies Group recognized the following businesses as Best Places to Work in South Carolina.
South Carolina Research Authority – SCRA
Mankiewicz Coatings
Advanced Technology International
Berkeley Electric Cooperative, Inc.
Henry Lee Distributors
The list is compiled through an employer questionnaire about policies and procedures, as well as an employee survey focused on work environment, pay and benefits, leadership and planning, and overall engagement.
Congratulations to these companies! Our Berkeley County Economic Development team is proud to celebrate your success and the success of so many other industries around our great County.
Strong industrial investment. Commitment to conservation. Perseverance through teamwork.
Those were the top themes voiced by DuPont officials, along with state and local leaders who gathered Thursday, July 28 to celebrate a ribbon-cutting ceremony for DuPont's newest investment in Berkeley County: the launch of its new Liveo™ healthcare product line, which began last year. This roughly $20 million investment resulted in 25 new employees and will create another 25 jobs in the near future.
DuPont began operating in Berkeley County more than 46 years ago, with operations first beginning in 1976. In 2017, the DuPont Cooper River site shuttered the Kelvar facility after just a few years of operations. The company decided to repurpose the facility by expanding the Hytrel™ operations and adding Molykote™ and Liveo™ production to the Cooper River site.
Life sciences and biotechnology innovation is a growing sector across the County and State, with an annual economic impact exceeding $11 billion and 40,000 jobs in South Carolina. Berkeley County alone has more than 25 life science industries—adding another one (DuPont's investment) to that list today.
"This plant, the DuPont name, is known all over the world. It's a great company that started long ago. …It's thriving and people are thriving with it. …This is a big moment; it's an important moment." -Governor Henry McMaster
The DuPont Cooper River site sits on a former rice plantation—Dean Hall—dating back to 1725. DuPont has been an integral community ally, helping the County relocate the historic Nesbit House from the company's property to where it now sits in Moncks Corner. More recently, DuPont donated land to the County to further expand the parking area at the Cypress Gardens Boat Landing site. DuPont also supported the County's reopening of its popular Cypress Gardens park after severe flood damage.
The Cooper River Site is a well-balanced industrial park with over 2,100 acres, only 200 of which are currently developed. Over 1,200 acres are set aside for conservation in a conservation easement with Lord Berkeley Land Trust, of which 800 acres are wetlands, and 925 acres are managed for wildlife.
"Forty-six years in Berkeley County is absolutely incredible; and DuPont's expansion and existence here means so much to us. As a County, we are growing at a tremendous rate, and we're both blessed and challenged by that growth; but at the same time, we want to protect what we hold dear so conservation and preservation efforts are at the forefront of our thoughts and actions. This campus is a shining example in that nearly 60-percent of the campus is protected under a conservation easement with Lord Berkeley Conservation Trust. Aside from this, Dupont has been a generous community partner and we appreciate their past and continued support for the Cypress Gardens Park and Landing. Their recent donation of over five acres of land allowed us to expand an overwhelmed boat landing from 35 total parking spaces to 145 spaces. Dupont is a shining example of Industry and Government working together for those we serve and represent." -Berkeley County Supervisor Johnny Cribb
"We had such great cooperation, first from our community, and really appreciate the strong support from the State, the County, the local government but also from our construction partners." -John Singer, VP, Integrated Operations – Electronics & Industrial, DuPont
"This is really a testament to the commitment that we have with Cooper River…and really this is just the first in a series of investments in Cooper River. This will make this a central part of our manufacturing network for high performance and high quality healthcare materials." -Sam Ponzo, VP / General Manager for Industrial Solutions for Electronics and Industrial Businesses, DuPont
"We are a global leader in healthcare solution products and now we're (working) to increase our capacity and find alternative locations. …This is a very special customer set of people that really need help to cure…from diseases" -Eugenio Taccalino, Global Business Director for Healthcare and Specialty Lubricants, DuPont
"Being selected as the second dedicated healthcare site is indeed an honor and a reflection of our team's track record of dedication, ownership, and commitment to our Core Values and excellence in meeting customers' needs. Thanks to collaboration between the DuPont team and our contractor partners, the Cooper River site was completed within 17 months – on time, on budget, and without a single recordable safety incident." -Bill Alexander, Cooper River Site Leader, DuPont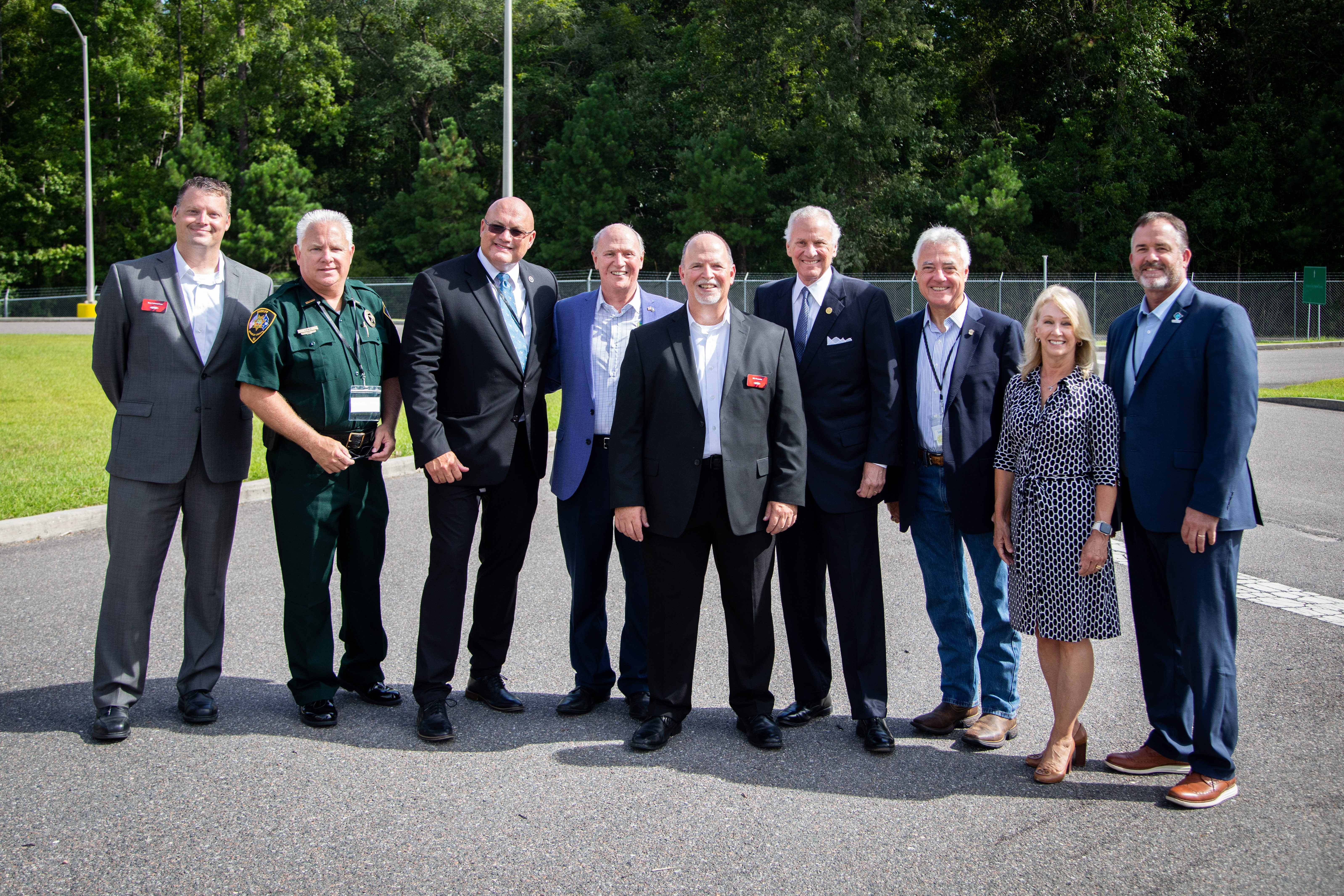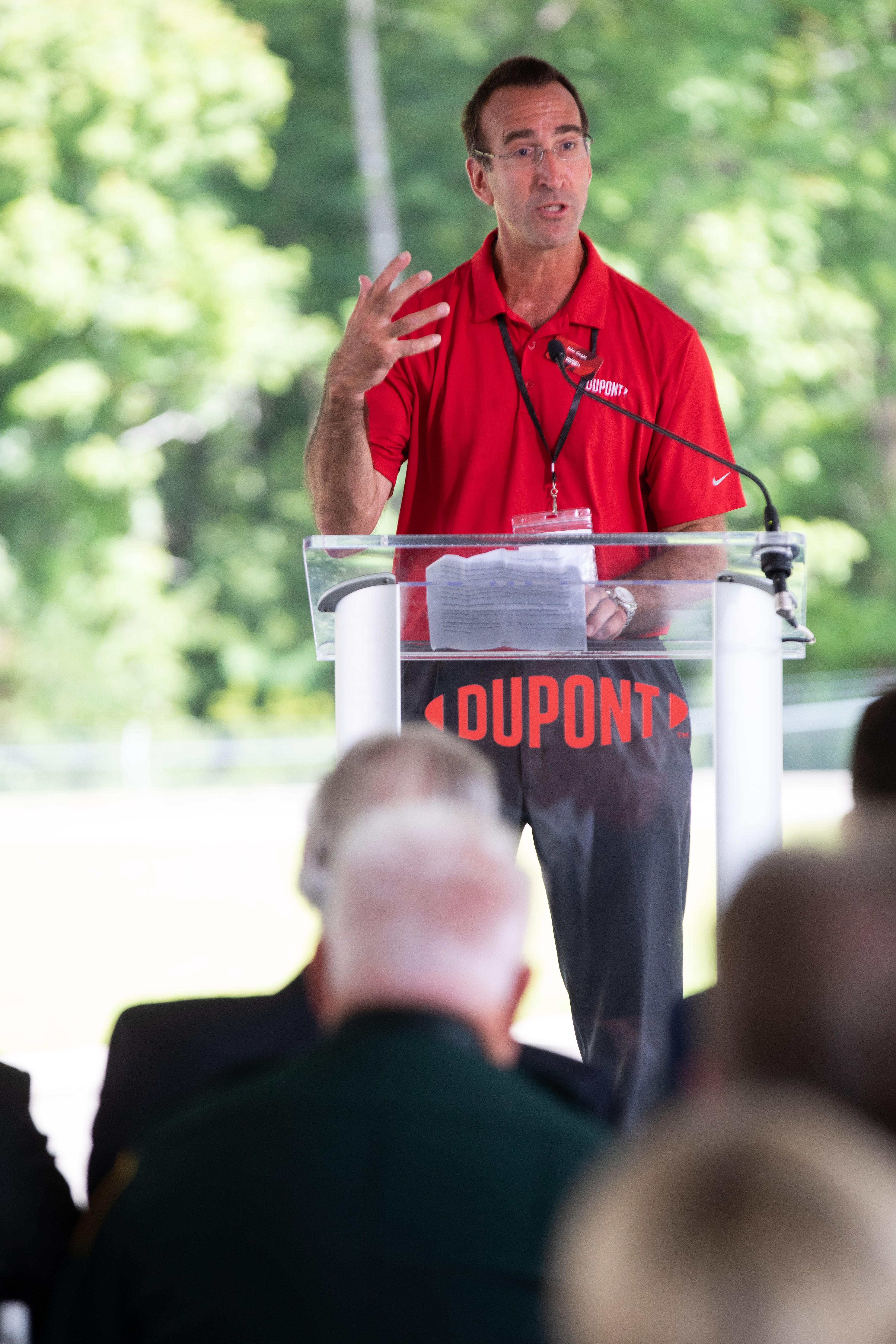 Expansion of biopharma processing tubing manufacturing capabilities with state-of-the-art infrastructure will support customer growth
WILMINGTON, Del., May 31, 2022 – DuPont (NYSE:DD) today announced the opening of its new DuPont™ Liveo™ Healthcare manufacturing site in Cooper River, South Carolina, to help better serve customers worldwide.
The site, located in Berkeley County, will be operated using the same quality standards as DuPont's Healthcare Industries Materials Site, the company's longstanding biopharmaceutical manufacturing site in Hemlock, Michigan. The Cooper River site will bring additional extrusion capacity online over the next two years to serve strategic customers in the short term and expand its Liveo™ Healthcare customer base with additional supply in the medium term.
"The biopharma processing manufacturing investment at Cooper River is a key milestone in our growth strategy; it supports our customers' expansion and contributes to business continuity," said DuPont Healthcare & Specialty Lubricants Global Business Director Eugenio Toccalino. "We're committed to investing in our healthcare business, and our recent expansions help us offer a highly reliable and sustainable product supply."
DuPont™ Liveo™ Healthcare is also expanding its manufacturing footprint regionally to support customers locally, which will help alleviate supply pressure and allow customers to grow in their respective markets. In the second half of 2022, the company expects to add biopharma silicone tubing capacity in China to serve the fast-growing customers in the region.
"Through a strong, close collaboration between our DuPont team and our contractor partners, construction of the new Cooper River site was completed in 18 months, without a single safety incident", said Bill Alexander, Cooper River site and unit leader for the DuPont™ Liveo™, and MOLYKOTE® plants. "The site has enabled the creation of 25 positions at start-up, with an additional 25 positions expected to be created as we ramp up operations over the next two years", added Alexander.
"For more than fourteen years, DuPont Cooper River has continued to diversify and reinvest in new products ensuring the viability of this Berkeley County facility. Life sciences and biotechnology innovation is a growing sector with an $11 billion annual economic impact and over 40,000 jobs in the State of South Carolina. We thank DuPont for their commitment to this community and for creating more high-paying jobs for the local workforce," said Kristen O. Lanier, Berkeley County Economic Development Director.
In 2021, the DuPont Cooper River site expanded to include manufacturing of DuPont™ MOLYKOTE® Specialty Lubricants.
As a trusted partner in the healthcare processing industry, DuPont has developed a leadership position within the industry by building upon more than seven decades of foundational capabilities that serve the highly regulated biopharmaceutical market. With these recent investments, DuPont is committed to serving the healthcare market and its customers more than ever, offering high-quality, high-performance solutions; application and material science expertise; and strong regulatory support to address healthcare customers' specific needs and challenges.
About DuPont™ Liveo™ Healthcare Solutions
DuPont™ Liveo™ is a globally recognized leader in technology for a broad range of innovations in medical devices, biopharmaceutical processing and pharmaceutical solutions. DuPont high-performance materials help create safer healthcare environments and protect the health of patients and healthcare providers worldwide. We help enable smarter healthcare and positive patient outcomes. More information can be found at liveo.dupont.com.
About DuPont Electronics & Industrial
DuPont Electronics & Industrial is a global supplier of new technologies and performance materials serving the semiconductor, circuit board, display, digital and flexographic printing, healthcare, aerospace, industrial, and transportation industries. From advanced technology centers worldwide, teams of talented research scientists and application experts work closely with customers, providing solutions, products and technical service to enable next-generation technologies.
About DuPont
DuPont (NYSE: DD) is a global innovation leader with technology-based materials and solutions that help transform industries and everyday life. Our employees apply diverse science and expertise to help customers advance their best ideas and deliver essential innovations in key markets including electronics, transportation, construction, water, healthcare and worker safety. More information about the company, its businesses and solutions can be found at www.dupont.com. Investors can access information included on the Investor Relations section of the website at investors.dupont.com
Do you own a business in Berkeley County or are interested in starting one? We want to hear from YOU! Our Berkeley County Economic Development teams wants to know what you like about living, working, and doing business in Berkeley County.
Please consider taking our survey so we can learn more about how your business is doing—and what WE can do—to help make EVERY business a success in our County.
GET INVOLVED
June 20 – 30, 2022
Tricounty STEMersion 2022 is a two-week, unique hands-on institute for middle and high school instructors in Berkeley, Charleston and Dorchester Counties in South Carolina. During the institute, educators visit one or two sites per day and will be introduced to local companies' work environments including the practical use of formulas, theories and/or concepts necessary for a successful work process. Educators will also participate in real-world workplace (hands-on) learning opportunities and lesson writing activities that reinforce why math, science and soft skills are so important for the region's workforce and economic growth.
FOR BUSINESSES
BECOME AN INDUSTRY PARTNER
Industry partnerships are the driving force behind Tri-County STEMersion. Local companies looking to make a direct investment in our region's talent pipeline can support STEMersion in the following ways:
Host a site visit for educators and counselors
Become a STEMersion corporate sponsor
Provide a lunch for educators and counselors
STEMersion Celebrates 5 Years
Tri-County STEMersion 2022 will celebrate five years of empowering educators to prepare our region's future workforce during this summer's professional development institute, to be held June 20-30.
STEMersion gives middle and high school instructors and counselors a firsthand look at emerging industry technology. Through hands-on activities and panel discussions with industry leaders, educators form connections between STEM education concepts and workforce preparation. Local STEM-focused companies including Bosch, Boeing and NIWC Atlantic shared insights and trends in workforce development with the 2021 cohort. Participants then applied these insights to develop industry-inspired lessons for use in the classroom. "STEMersion put the 'why' in what we teach students. We want our students to be great producers, and with this gained knowledge we can put ideas in our students' minds," said 2021 participant Angela LeVan-Woosley, a business education and computer science teacher at Westview Middle School.
Quotes
"An eye-opening experience, Tri-County STEMersion connects the classroom to key competencies and technologies required in today's work world. The institute builds career awareness, allows local educators to 'touch' their curriculum at a local industry site and catapults them to create standards-based, industry-inspired projects for their students to 'solve by design!'" – S.C. Department of Commerce Regional Workforce Advisor Dr. Patricia Ferguson
In addition to STEM-related topics, STEMersion sessions highlight writing and soft skills as a means of strengthening the region's talent pipeline. Numerous presenters expressed the importance of investing in human capital to drive innovation and problem-solving capacity within the workforce. Using feedback from these industry leaders, participants explored ways to cultivate students' ability to communicate, and to think innovatively, to ensure workforce readiness.
Applications for the 2022 cohort are now available at tricountystemersion.com. Twenty-two educators and counselors from Berkeley, Charleston and Dorchester Counties took part in the fourth annual session, which concluded June 30, 2021. The experience culminated in a capstone project competition, in which participants were divided into groups to apply STEM concepts such as proof of concept, prototypes, and design review into their final product. The winning project, created by four Berkeley County educators, applied the design and manufacturing processes to address the issue of bullying in schools. The project was then featured as a Day of Caring STEM design challenge in local schools in the region in November 2021.
Despite shifting to a virtual platform, STEMersion's planning committee piloted several additions in 2021. School counselors joined this year's cohort for the first time in the program's history. The newly-launched STEMersion app served as a complement to the virtual sessions. Also, previous STEMersion participants were invited back to the institute as ambassadors. "I was so excited to serve as an Ambassador for STEMersion this year and look forward to being able to be back on-site next year. STEMersion helps teachers make connections between curriculum and careers. This helps teachers truly help students connect skills learned in the classrooms to skills used in the workforce and potential careers," said Deborah (D.D.) Otap, a makerspace teacher and facilitator at the West Ashley Center for Advanced Studies.
STEMersion is hosted by the S.C. Department of Commerce and Berkeley, Charleston and Dorchester County's economic development offices. For more information, or to apply, visit tricountystemersion.com.
MONCKS CORNER, S.C.- (Tuesday, July 20, 2021)- Berkeley County residents interested in growing their qualifications for manufacturing jobs can apply for scholarships for the ManuFirst SC program HERE. This free program is available for Berkeley County residents and will start on August 16, 2021.
When: Monday – Thursday, starting August 16, from 9 a.m.-1 p.m. or 6-10 p.m.
Where: Trident Technical College, Berkeley Campus, 1001 S. Live Oak Dr., Moncks Corner
Why: Help Berkeley County residents get the necessary training for manufacturing positions
This four-week course, ending on September 15, 2021 will provide the necessary training for graduates to qualify for positions at industries around Berkeley County and in the state of South Carolina. ManuFirstSC participants learn essential safety policies, communication best practices, quality standards, production processes and maintenance awareness. All successful graduates receive an OSHA-10 card and Yellow Belt Lean Six- Sigma certification. The course also includes preparation and testing for the MSSC Safety Certification Assessment. Materials are provided.
About ManuFirstSCTM – Berkeley County worked in partnership with Trident Technical College, South Carolina Department of Commerce, Volvo Cars, and Ready SC to pilot the program in June 2017. Since then, neighboring counties have emulated the training program to provide opportunities for residents around the state. SC Department of Commerce rebranded the program ManuFirstSCTM and has rolled it out across the state's technical college system by industry demand.
To qualify for a Berkeley County ManuFirst SC scholarship, participants must:
Be at least 18 years old
Be able to legally work in the United States
Provide documentation of Berkeley County residency
Have a high school diploma or GED
Provide proof of Bronze WIN/WorkKeys score
Scholarships are available for upcoming ManuFirst SC courses. Scholarships are awarded on a first-come, first-served basis. Apply now! Anyone with questions should contact Berkeley County Economic Development Workforce Development Manager Corey McClary at 843-719-4096 or corey.mcclary@berkeleycountysc.gov.
###
– Prepared by the Berkeley County Public Information Office –