Hiring Berkeley County Industries Can Connect with High School Seniors and Job Seeking Residents at Free Events
This is an open invitation for two upcoming job fairs that will be coming up in Berkeley County. These particular job fairs will be unique in the fact that along with community participants and jobseekers, Berkeley County Economic Development has partnered with Berkeley County School District to bus in respective high school seniors that will be eligible for the workforce.
The information for these two job fairs are as following:

Berkeley County Economic Development Job Fair
Wednesday, October 27th 2021
10am- 2pm
New Life Christian Fellowship Church
358 Liberty Hall Rd. Goose Creek, SC 29445
Lunch will be provided for industry participants. The high schools in the northern part of the county will be in attendance in Monks Corner. The high schools in the southern part of the county will be in attendance in Goose Creek.

Berkeley County Economic Development Job Fair
Wednesday, November 10th 2021
10am-2pm
Berkeley County Administration Building
1003 Highway 52, Monks Corner, SC 29461
Space is limited – employers are encouraged to register to attend. Please send registration forms to scworkstrident@dew.sc.gov.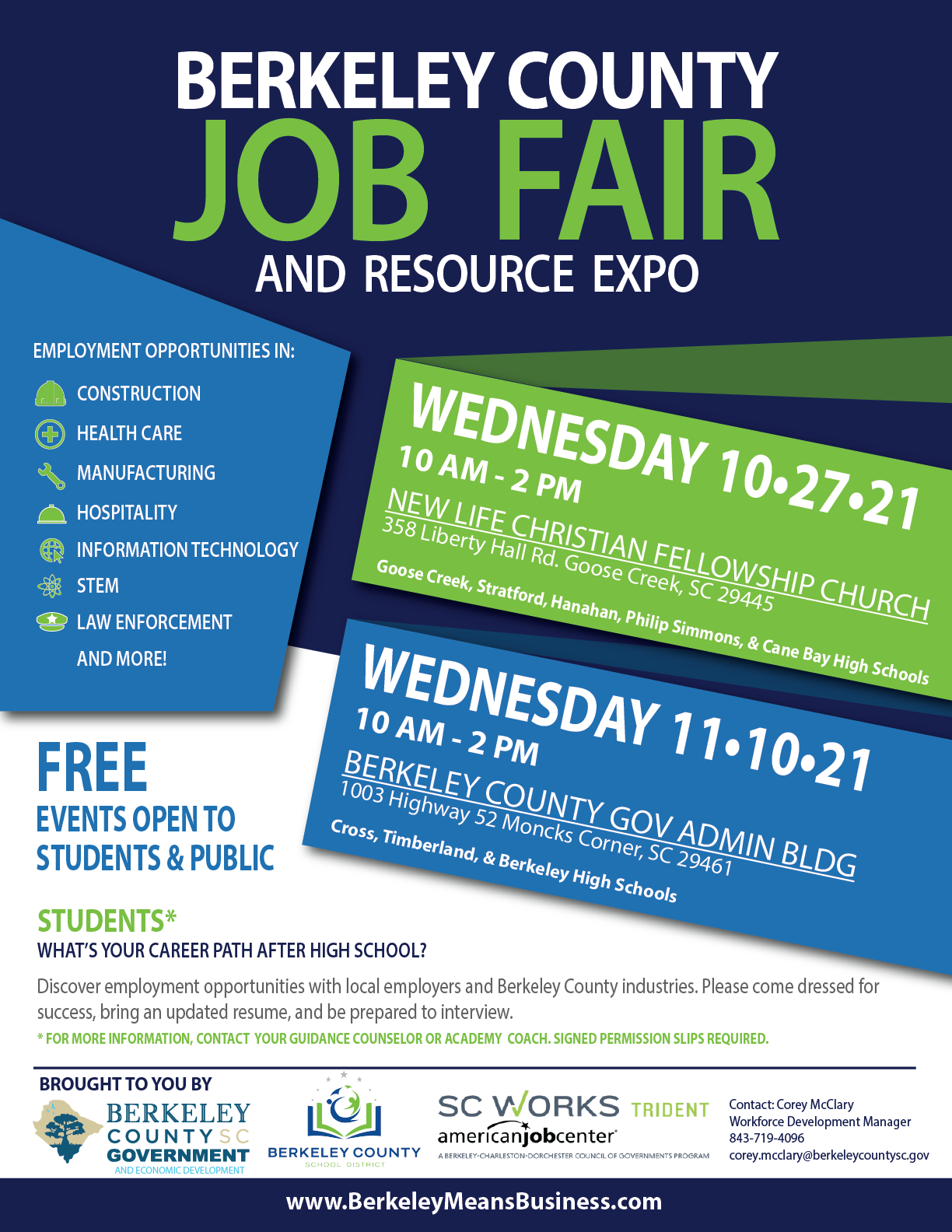 MONCKS CORNER, S.C.- (Tuesday, July 20, 2021)- Berkeley County residents interested in growing their qualifications for manufacturing jobs can apply for scholarships for the ManuFirst SC program HERE. This free program is available for Berkeley County residents and will start on August 16, 2021.
When: Monday – Thursday, starting August 16, from 9 a.m.-1 p.m. or 6-10 p.m.
Where: Trident Technical College, Berkeley Campus, 1001 S. Live Oak Dr., Moncks Corner
Why: Help Berkeley County residents get the necessary training for manufacturing positions
This four-week course, ending on September 15, 2021 will provide the necessary training for graduates to qualify for positions at industries around Berkeley County and in the state of South Carolina. ManuFirstSC participants learn essential safety policies, communication best practices, quality standards, production processes and maintenance awareness. All successful graduates receive an OSHA-10 card and Yellow Belt Lean Six- Sigma certification. The course also includes preparation and testing for the MSSC Safety Certification Assessment. Materials are provided.
About ManuFirstSCTM – Berkeley County worked in partnership with Trident Technical College, South Carolina Department of Commerce, Volvo Cars, and Ready SC to pilot the program in June 2017. Since then, neighboring counties have emulated the training program to provide opportunities for residents around the state. SC Department of Commerce rebranded the program ManuFirstSCTM and has rolled it out across the state's technical college system by industry demand.
To qualify for a Berkeley County ManuFirst SC scholarship, participants must:
Be at least 18 years old
Be able to legally work in the United States
Provide documentation of Berkeley County residency
Have a high school diploma or GED
Provide proof of Bronze WIN/WorkKeys score
Scholarships are available for upcoming ManuFirst SC courses. Scholarships are awarded on a first-come, first-served basis. Apply now! Anyone with questions should contact Berkeley County Economic Development Workforce Development Manager Corey McClary at 843-719-4096 or corey.mcclary@berkeleycountysc.gov.
###
– Prepared by the Berkeley County Public Information Office –