MONCKS CORNER, S.C. – (Thursday, September 15, 2022) – At its meeting on Monday, September 12, 2022, Berkeley County Council approved a $500,000 EPA Brownfields Assessment grant to help fund a large-scale revitalization initiative to greatly improve quality of life opportunities in the St. Stephen/Russellville area. Watch the full Council meeting HERE.
This grant, part of the U.S. Environmental Protection Agency's Brownfields Community Wide Assessment Grant Program, will help fund environmental assessments on properties located within a certain designated Census Tract in the St. Stephen area. With the help of community and residential input, the Town of St. Stephen—together with the EPA and Berkeley County Economic Development—will conduct up to 15 site inventories of brownfield sites, in the St. Stephen area, that could be redeveloped to provide more job opportunities and other quality of life resources for the community.
The grant has already identified two such sites: the former St. Stephen High School, which closed in 1996, and the area's former Lumber Mill, which operated as a steam-powered lumber mill from the 1930s to mid-1960s and closed around 1970. Another goal of this large-scale initiative will be to develop a complete revitalization plan unique to St. Stephen.
Public meetings and community engagement will be critical throughout this process. More information on public meetings will be forthcoming.
"County Council is committed to improving access to resources and employment opportunities for people throughout Berkeley County. This grant will not only help fund these initiatives, but also ensure the St. Stephen community is involved in the process. Berkeley County's success is directly related to the success of its citizens; inviting the public to the table on critical decision-making efforts like this one are what makes us #OneBerkeley."  -Johnny Cribb, Berkeley County Supervisor
"The town of St. Stephen is grateful that the EPA selected us to receive one of the 2022 Brownfields Program Grants for $500,000. We were the only municipality in Berkeley County to receive this. In countless other communities around the United States, the EPA's Brownfield Program has had a proven track record of leveraging private sector investment, creating jobs, and protecting the environment. St. Stephen will use this Brownfields Grant to spur our town with redevelopment and cleanup projects and bring sustained economic growth. We are thankful for the support of the Berkeley County Economic Development Office and their ability to work with myself, Town Council, and the Town's administration to write the grant proposal. We are ready to collaborate with the various committees that will be comprised of St. Stephen residents and business owners to help us continue to grow and revitalize our town. It has been well worth the wait. This is the first of many blessings in store for our great town." -John Rivers, St. Stephen Mayor
###
-Prepared by the Berkeley County Public Information Office-
On Wednesday, August 3, 2022, Berkeley County and State leaders gathered to celebrate a special groundbreaking ceremony for RL Cold, a company that will bring much-needed cold storage and warehousing to the region to address critical needs in the domestic food supply chain.
This $90-million capital investment for the County will create 100-plus jobs, help provide a good tax revenue for the County, and help us increase our services for our citizens.
Thank you to the State, South Carolina Ports Authority and Santee Cooper for supporting this project, located in Camp Hall – Campus 5 in Ridgeville. Camp Hall was designed for growth in mind, putting the infrastructure and entitlements in place to attract world class businesses.
Thank you to County Councilman Phillip Obie II for speaking on behalf of the County and County Council. Obie currently serves as Berkeley County's Ambassador to the Port.
We are grateful for your investment in Berkeley County, RL Cold & Maersk!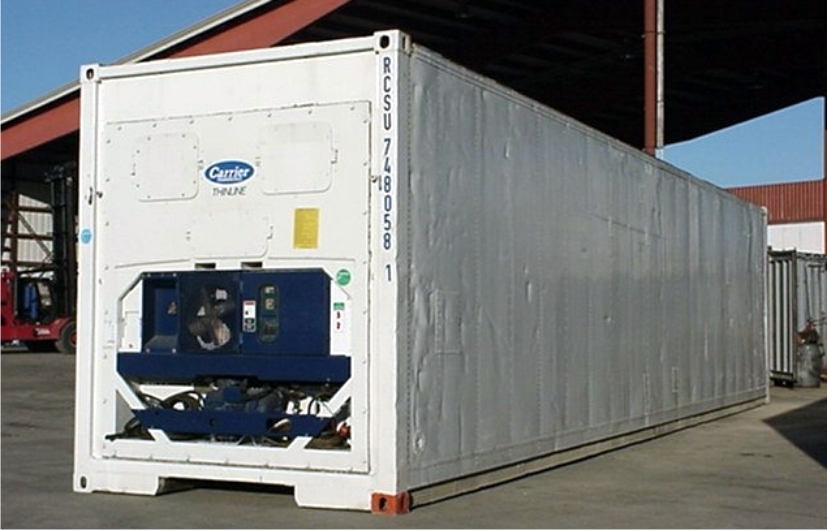 Expansion of biopharma processing tubing manufacturing capabilities with state-of-the-art infrastructure will support customer growth
WILMINGTON, Del., May 31, 2022 – DuPont (NYSE:DD) today announced the opening of its new DuPont™ Liveo™ Healthcare manufacturing site in Cooper River, South Carolina, to help better serve customers worldwide.
The site, located in Berkeley County, will be operated using the same quality standards as DuPont's Healthcare Industries Materials Site, the company's longstanding biopharmaceutical manufacturing site in Hemlock, Michigan. The Cooper River site will bring additional extrusion capacity online over the next two years to serve strategic customers in the short term and expand its Liveo™ Healthcare customer base with additional supply in the medium term.
"The biopharma processing manufacturing investment at Cooper River is a key milestone in our growth strategy; it supports our customers' expansion and contributes to business continuity," said DuPont Healthcare & Specialty Lubricants Global Business Director Eugenio Toccalino. "We're committed to investing in our healthcare business, and our recent expansions help us offer a highly reliable and sustainable product supply."
DuPont™ Liveo™ Healthcare is also expanding its manufacturing footprint regionally to support customers locally, which will help alleviate supply pressure and allow customers to grow in their respective markets. In the second half of 2022, the company expects to add biopharma silicone tubing capacity in China to serve the fast-growing customers in the region.
"Through a strong, close collaboration between our DuPont team and our contractor partners, construction of the new Cooper River site was completed in 18 months, without a single safety incident", said Bill Alexander, Cooper River site and unit leader for the DuPont™ Liveo™, and MOLYKOTE® plants. "The site has enabled the creation of 25 positions at start-up, with an additional 25 positions expected to be created as we ramp up operations over the next two years", added Alexander.
"For more than fourteen years, DuPont Cooper River has continued to diversify and reinvest in new products ensuring the viability of this Berkeley County facility. Life sciences and biotechnology innovation is a growing sector with an $11 billion annual economic impact and over 40,000 jobs in the State of South Carolina. We thank DuPont for their commitment to this community and for creating more high-paying jobs for the local workforce," said Kristen O. Lanier, Berkeley County Economic Development Director.
In 2021, the DuPont Cooper River site expanded to include manufacturing of DuPont™ MOLYKOTE® Specialty Lubricants.
As a trusted partner in the healthcare processing industry, DuPont has developed a leadership position within the industry by building upon more than seven decades of foundational capabilities that serve the highly regulated biopharmaceutical market. With these recent investments, DuPont is committed to serving the healthcare market and its customers more than ever, offering high-quality, high-performance solutions; application and material science expertise; and strong regulatory support to address healthcare customers' specific needs and challenges.
About DuPont™ Liveo™ Healthcare Solutions
DuPont™ Liveo™ is a globally recognized leader in technology for a broad range of innovations in medical devices, biopharmaceutical processing and pharmaceutical solutions. DuPont high-performance materials help create safer healthcare environments and protect the health of patients and healthcare providers worldwide. We help enable smarter healthcare and positive patient outcomes. More information can be found at liveo.dupont.com.
About DuPont Electronics & Industrial
DuPont Electronics & Industrial is a global supplier of new technologies and performance materials serving the semiconductor, circuit board, display, digital and flexographic printing, healthcare, aerospace, industrial, and transportation industries. From advanced technology centers worldwide, teams of talented research scientists and application experts work closely with customers, providing solutions, products and technical service to enable next-generation technologies.
About DuPont
DuPont (NYSE: DD) is a global innovation leader with technology-based materials and solutions that help transform industries and everyday life. Our employees apply diverse science and expertise to help customers advance their best ideas and deliver essential innovations in key markets including electronics, transportation, construction, water, healthcare and worker safety. More information about the company, its businesses and solutions can be found at www.dupont.com. Investors can access information included on the Investor Relations section of the website at investors.dupont.com
Do you own a business in Berkeley County or are interested in starting one? We want to hear from YOU! Our Berkeley County Economic Development teams wants to know what you like about living, working, and doing business in Berkeley County.
Please consider taking our survey so we can learn more about how your business is doing—and what WE can do—to help make EVERY business a success in our County.
On Thursday, April 21, Berkeley County Economic Development hosted its inaugural Industry Luncheon at the Lowcountry Conference Center in Nexton. Nearly two dozen industry partners gathered to learn more about what the County, and municipalities within the County, are doing to draw in new business and support existing ones.
"Industrial development in Berkeley County helps keep our taxes the lowest of any County government in the State. More than that, it has provided many job and career opportunities for our residents. The average hourly wage on new investment in 2021 was over $27 per hour, compared to the $21 (per hour) average County wage. Everyone focuses on 'unemployment,' but we realize many of our hard-working residents are 'underemployed' and these job opportunities are life-changing." -Berkeley County Supervisor Johnny Cribb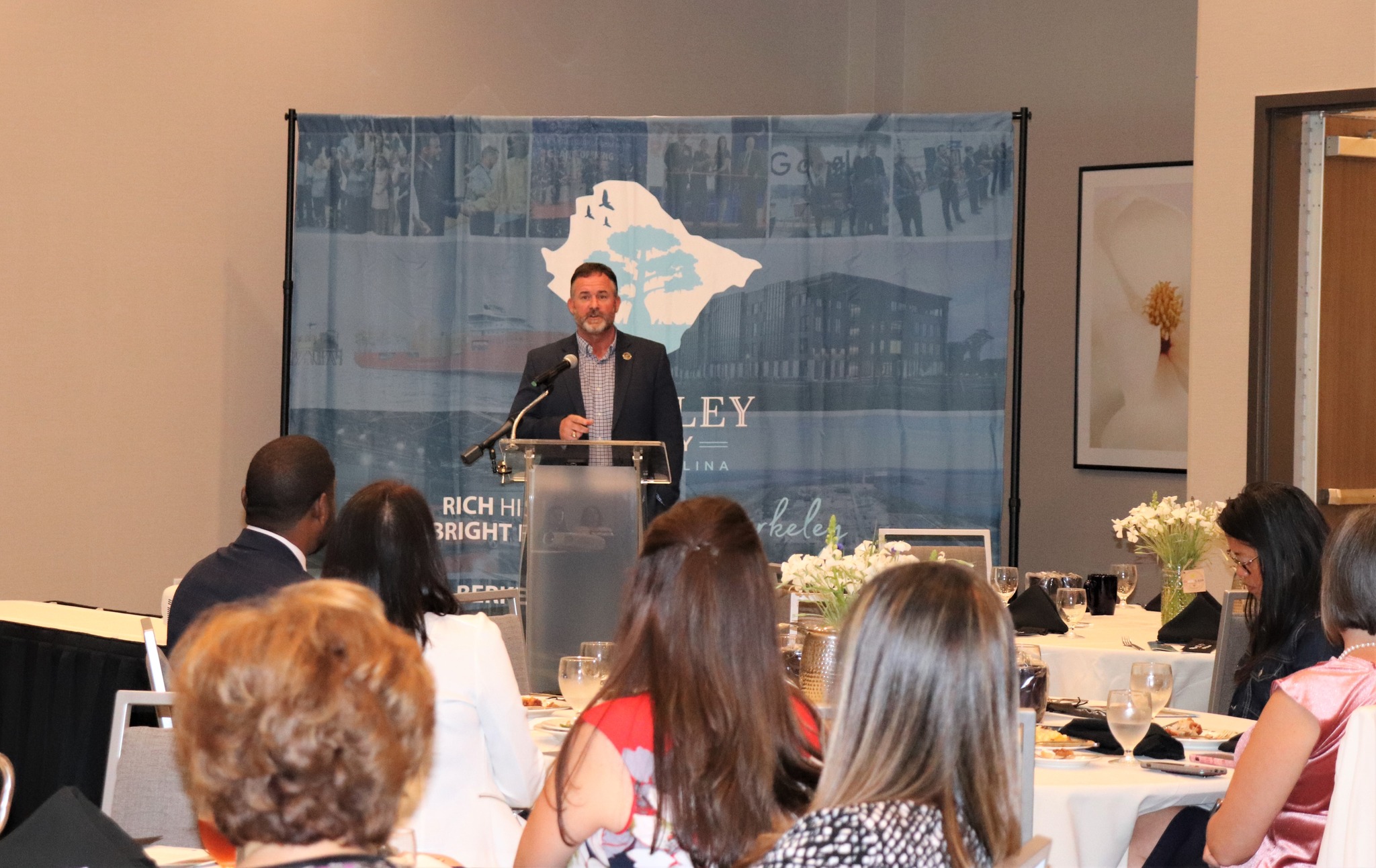 "I hope the word that you have heard over and over from every leader…is the word 'together.' We've heard 'One Berkeley'—that's the theme—and it's something that we truly do so well. …We need to become a team together. …Your (industry's) people are our residents; we care about our residents. They are your employees; they're the people shopping in the towns that we're…all trying so hard to make so amazing." –City of Hanahan Mayor Christie Rainwater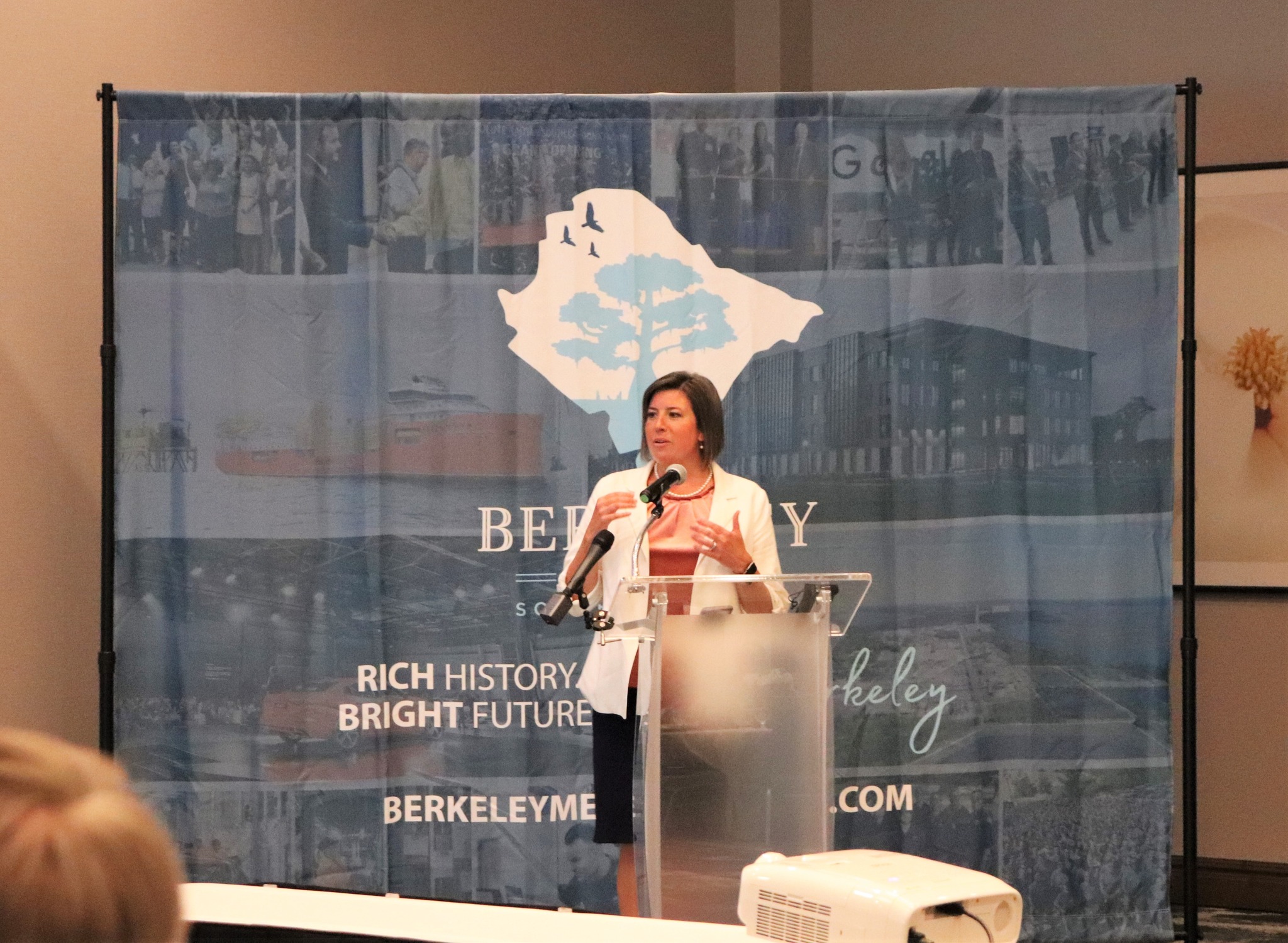 "If you're thinking about putting your business here (or) you're growing your business, you want to have a quality of life for the people who work for you; and that's what we work very hard at. …We want to create as many opportunities for people to come together as possible. …We put people and jobs and education and retail and recreation in the same place." –City of Goose Creek – Municipal Government Mayor Greg Habib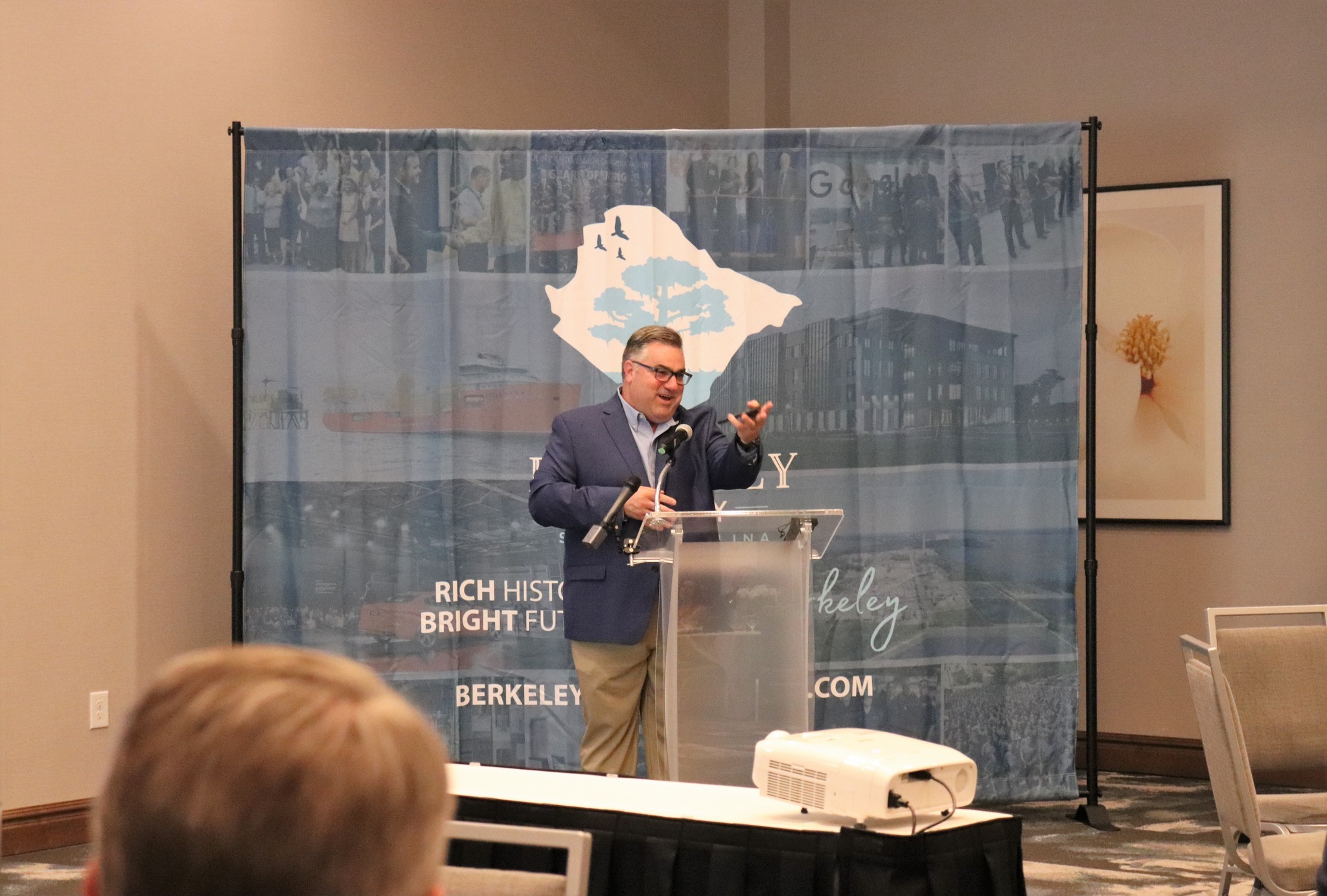 "We, Moncks Corner, are going to focus more on commercial and retail because we see development as a broadband approach; it is our responsibility to create the communities that those industries want to come into. …The things Moncks Corner is doing is a three-pronged approach: recruiting new businesses, providing infrastructure for significant development, and business assistance because we can't forget the businesses that we already have." –Town of Moncks Corner Administrator Jeff Lord.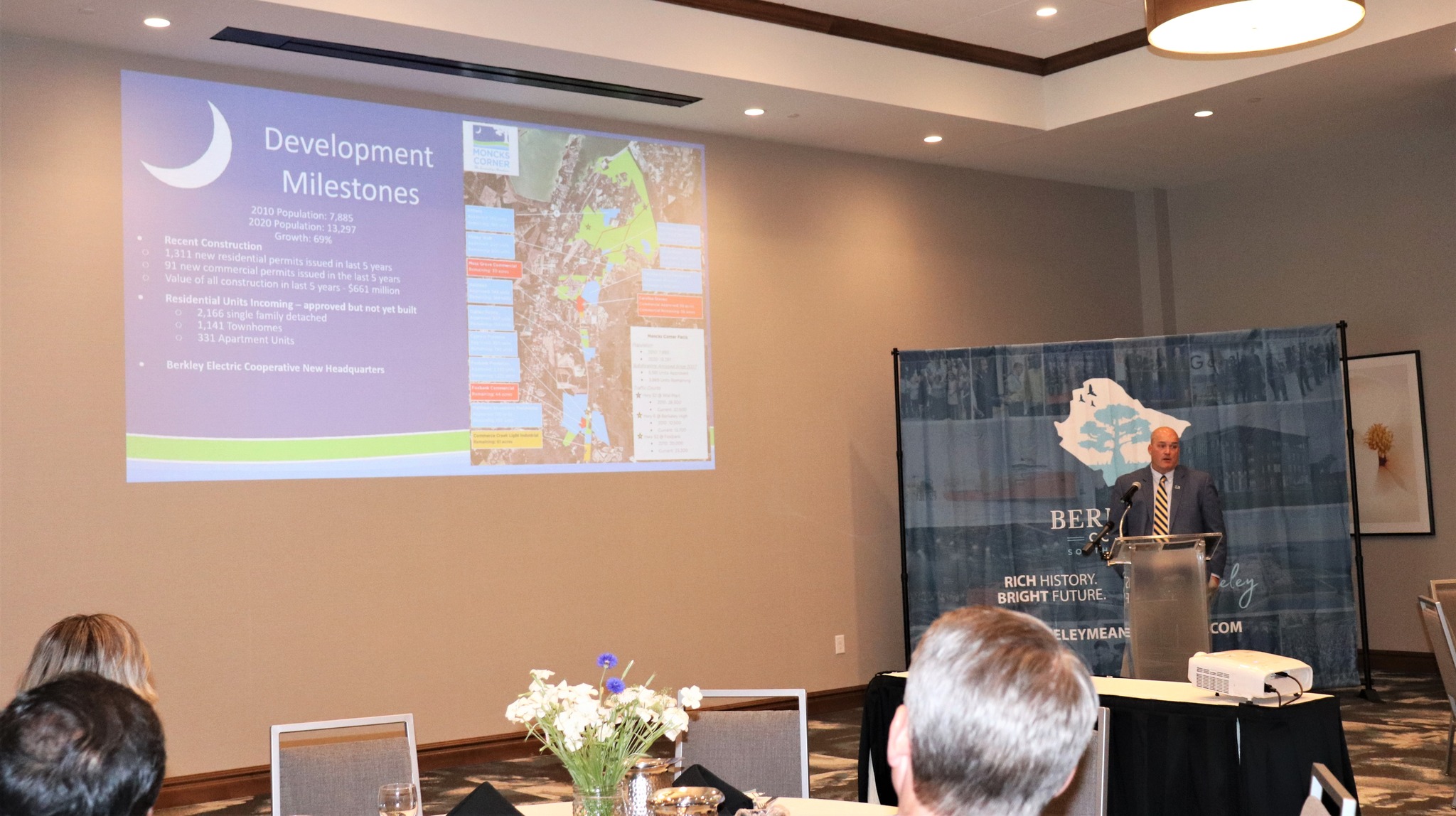 This event was a direct reflection of the #OneBerkeley mindset that helps create positive partnerships, fuel the County's ongoing economic success, and sustain our communities' exceptional quality of life.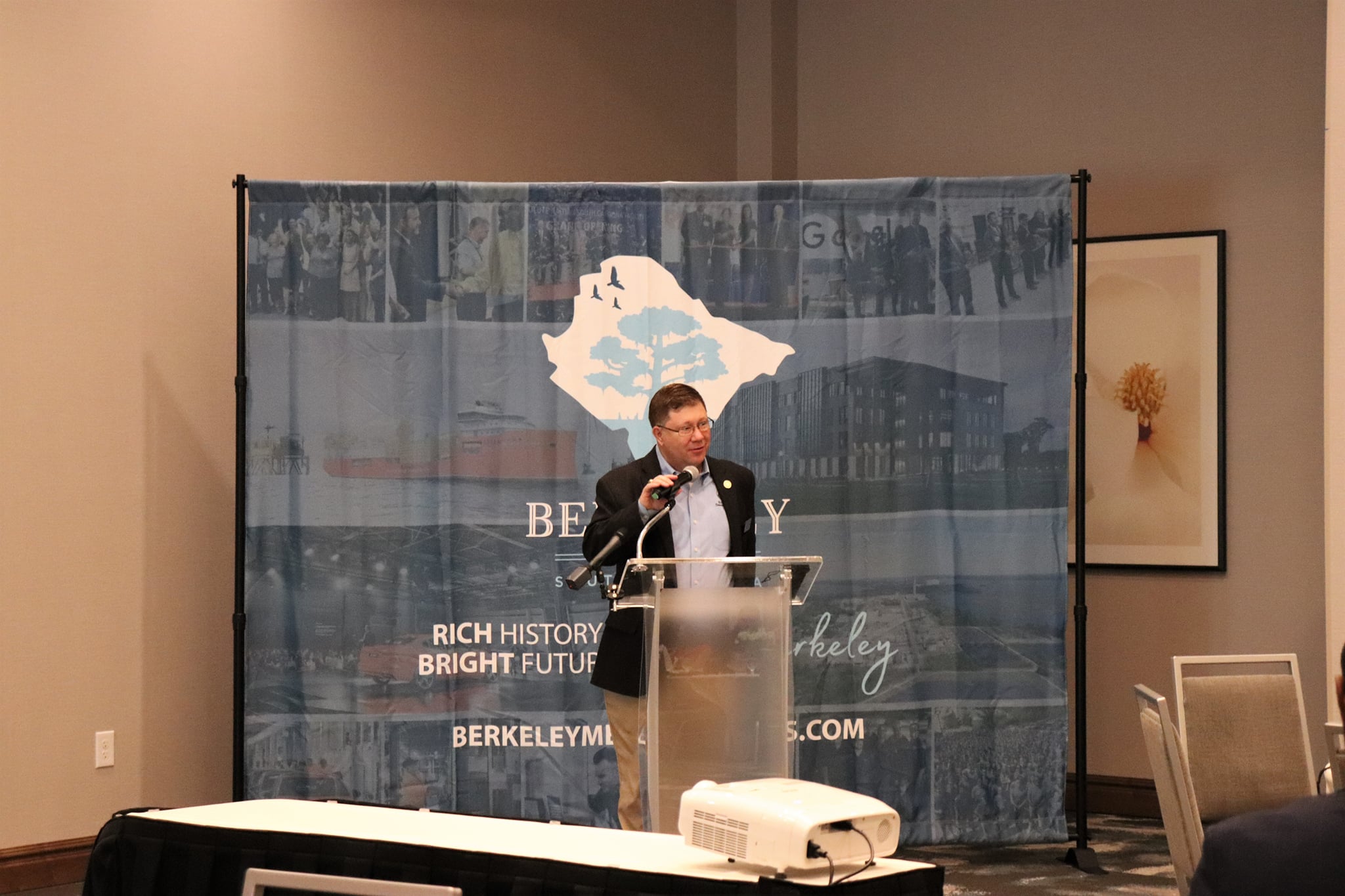 $80 million investment creating 117 new jobs
Sagebrook Home, a global home décor brand, today announced plans to establish operations in Berkeley County. The company's $80 million investment will create 117 new jobs.
Founded in 2015, Sagebrook Home's portfolio includes over 10,000 products including furniture, accessories, wall art, garden décor, lighting and more. The company is a leader in delivery, fulfillment and drop shipping to customers worldwide.
Located at 574 Trade Center Parkway in Summerville, Sagebrook Home's Berkeley County facility will serve as a 500,000-square-foot, state-of-the-art distribution center for the company's home décor and wholesale operations.
Operations are expected to be online in May 2022. Individuals interested in joining the Sagebrook Home team should visit the company's contact page.
The Coordinating Council for Economic Development has awarded a $100,000 Set-Aside grant to Berkeley County to assist with the costs of site preparation and building construction.
QUOTES
"As Sagebrook Home continues to grow, the decision to distribute from both the East and West Coasts seemed a natural evolution. With the rising cost of shipping, there was no better time to add bicoastal distribution. This new distribution center gives us the opportunity to implement the latest in technology and keep Sagebrook Home a force in the HOME category." -Sagebrook Home Co-CEO Justin Kachan
"With its proximity to Interstate 26, Interstate 95 and the Port of Charleston, Berkeley County is the ideal place for a business to get their product to marketplaces all over the world. Today's announcement by Sagebrook Home is a testament to our strong logistics network that helps make South Carolina the ideal destination for businesses." -Gov. Henry McMaster
"Sagebrook Home's decision to locate a new distribution facility in Berkeley County is reason to celebrate. This announcement speaks volumes to our state's logistics advantages, infrastructure and business-friendly environment." -Secretary of Commerce Harry M. Lightsey III
"SC Ports is thrilled to handle goods for Sagebrook's first East Coast distribution center. This impressive home décor company will benefit from SC Ports' creative supply chain solutions and expansive port infrastructure. Sagebrook's new furniture distribution center builds on Charleston's centrality to the furniture and home goods segment." -SC Ports CEO Jim Newsome
"Berkeley County is proud to welcome Sagebrook Home to our community. Sagebrook Home's $80 million investment will help provide more jobs and quality workforce opportunities for the hardworking people in our county. This industry commitment is proof that Berkeley County continues to shine as a bright beacon for industry growth." -Berkeley County Supervisor Johnny Cribb
FIVE FAST FACTS
· Sagebrook Home is establishing operations in Berkeley County.
· $80 million investment will create 117 new jobs.
· Sagebrook Home's portfolio includes over 10,000 products including furniture, accessories, wall art, garden décor, lighting and more.
· Located at 574 Trade Center Parkway in Summerville, S.C.
· Individuals interested in joining the Sagebrook Home team should visit the company's contact page.
Berkeley County is proud to announce Nucor Steel has been named the "Coolest Thing Made in SC." The inaugural competition was put on by the South Carolina Manufacturers Alliance to highlight the state's manufacturing industry.
In all, 175 products were nominated. After two months and more than 100,000 votes, Governor Henry Mcmaster announced Nucor Steel as the winner on March 30.
Other Berkeley County industries that took part: Horizon Scientific, IFA, Thorne HealthTech, W International, Freeman Boatworks, Curtiss-Wright Steam & Air Solutions, Volvo Cars USA, and Nexans High Voltage USA Inc.
Nucor Steel has been making steel—one of the world's most important engineering and construction materials—in the Palmetto State since 1969. Nucor opened its local plant in 1996.
Berkeley County is honored to have world-class companies like Nucor as part of our business community. We look forward to future opportunities to attract more business investments and continue to grow our local economy.
For more about Nucor Steel, visit https://www.nucor.com/.
Read More
Nexans High Voltage USA, Inc. and Berkeley County Government recently celebrated the long-awaited unveiling of Nexans' new, state-of-the-art offshore wind power vessel, the CLV Nexans Aurora. This milestone moment took place at a special event March 26 at Nexans, located on Bushy Park Road in the County's unincorporated part of Goose Creek.
The event served as a priceless part of history for Nexans, the County, and the global offshore wind power market. In addition to a number of guest speakers—who were local-elected leaders and Nexans' officials—the event offered site tours, kids' activities, an informational tent featuring various community partners, and much more.
It was a celebratory day that served as a prominent example of the ongoing success of economic development across Berkeley County and the Palmetto State, as well as a positive outlook for the future of the nation's rapidly expanding offshore wind market.
Nexans officially opened its transformed high voltage subsea cable plant in Berkeley County in November. It is the only facility in North America with such capability. Nexans is planning to transport the first subsea high voltage export cable, via the CLV Nexans Aurora, to an offshore windfarm in the UK later this month.
"Nexans' state-of-the-art operation in Berkeley County shows the world that South Carolina is on the cutting edge of industries of all types. We congratulate Nexans on today's milestone and look forward to the exciting work they're doing to connect infrastructure in South Carolina and around the world." – Secretary of Commerce Harry M. Lightsey III
"We are excited to welcome this next step for the future of Nexans and the global offshore wind power market. The arrival of the CLV Nexans Aurora is an unprecedented milestone for Nexans and the County's industrial sector. Nexans is one of a number of incredibly valuable industries to call Berkeley County home; and we are proud to say that we're continuing to attract similarly successful, quality industries to our area." – Berkeley County Supervisor Johnny Cribb
For more information on Nexans, visit www.nexans.com.
Goose Creek-based W International, which fabricates large-scale metal parts for the U.S. Navy's next-generation nuclear submarine, is marking the opening of its Center of Excellence to provide training in welding, fitting, forklift and lifting and handling operations.
The training center is at the defense contractor's manufacturing headquarters at the Charleston International Manufacturing Center in the Bushy Park area of Berkeley County. An opening ceremony is scheduled for Nov 30.
The company plans to offer Navy-accredited welding programs for people who are unemployed or underemployed, with no prior experience necessary. Those enrolled in the program are paid to undergo 240 training hours over an eight-week period. Graduates will receive guaranteed employment with W International. 
The new center will also be open to current W International employees who want to enhance their skills for career advancement.
The welding program's inaugural class has 47 students who will graduate in December. The program has a waiting list of more than 200.
The new facility is in addition to W International's welding programs offered to students and adults at the county's Timberland and Cross high schools.
The training center is part of an expansion at the W International campus that also includes cafeterias, where the company's growing workforce can take a break and grab a snack in an industrial area with few existing dining options. It also includes a new office for supervisors at the 451,000-square-foot, cube-shaped building that's the centerpiece of W International's site. The 225-foot-tall building adjacent to the Cooper River is where the biggest military parts are fabricated and then placed on barges to be transported to customers.
W International counts General Dynamics Electric Boat and Newport News Shipbuilding, the main contractors for the Columbia-class submarine, as its top customers.
Community Leaders Celebrate W International's new Welding Training Program
New Center of Excellence will offer paid welding training to would-be welders.
Read more here: SC defense contractor's training center giving would-be welders a chance for new career
DHI Corp (Design House), a home goods provider, today announced plans to establish operations in Berkeley County. The $627,000 investment will create 40 new jobs.
Founded in 1872, Design House offers a variety of home good products for any room. The company's products include home furniture, lighting, ceiling fans, bath furniture and accessories, kitchen cabinets and much more.
Located at 300 Trade Zone Blvd. in Summerville, Design House's new facility will increase the company's capacity to meet growing demand and serve as a distribution center.
The facility is fully operational. Individuals interested in joining the Design House team should visit the company's careers webpage.
The Coordinating Council for Economic Development has approved a $100,000 Set-Aside grant to Berkeley County to assist with costs related to the project.
QUOTES
"As DHI Corp looked to expand our distribution footprint to the eastern United States, we believe we made a great choice in moving to Summerville, S.C. It has the perfect combination of proximity to many U.S. online consumers, a new facility and an expanded port – as well as very supportive local and state teams." -DHI Corp Vice President of Global Operations Mike Oberlander
"When companies like Design House choose to establish operations in South Carolina, it's a win for the people, the local community and the entire state. This company's investment and creation of 40 new jobs are good news for Berkeley County, and we look forward to seeing what's in store for the future." -Gov. Henry McMaster
"Our state continues to be an ideal destination for companies looking to expand their footprint and grow their distribution operations. We welcome Design House to the South Carolina business community, and know they'll continue to accomplish great things." -Secretary of Commerce Harry M. Lightsey III
"We are pleased that Design House has chosen Berkeley County for their new East Coast distribution center. By adding dozens of new jobs to our workforce, this expansion will yield a positive impact on our local economy and enhance our citizens' overall quality of life." -Berkeley County Supervisor Johnny Cribb
FIVE FAST FACTS
DHI Corp (Design House) is establishing operations in Berkeley County.
The $627,000 investment will create 40 new jobs.
Design House is a home goods provider.
Located at 300 Trade Zone Blvd. in Summerville, S.C.
Individuals interested in joining the Design House team should visit the company's careers webpage.